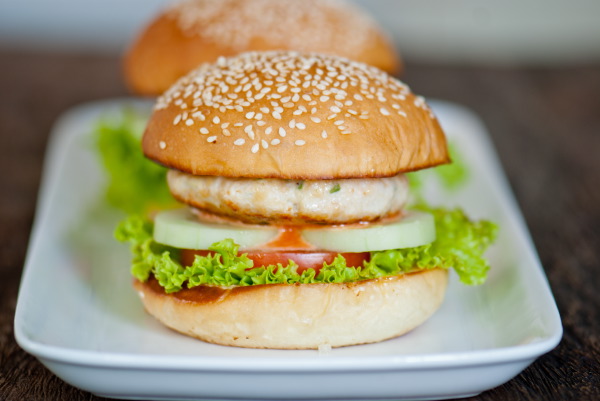 You know when everything with spring onion and garlic is considered "Asian"? I made my version of Asian inspired burger, with chopped spring onion, garlic, ground chicken and Japanese mayo and spicy bottled sambal. It is easy, quick and satisfying.
It is quick when you don't make the bun and mince the chicken by hand. Which I did both myself. It was a therapy for me.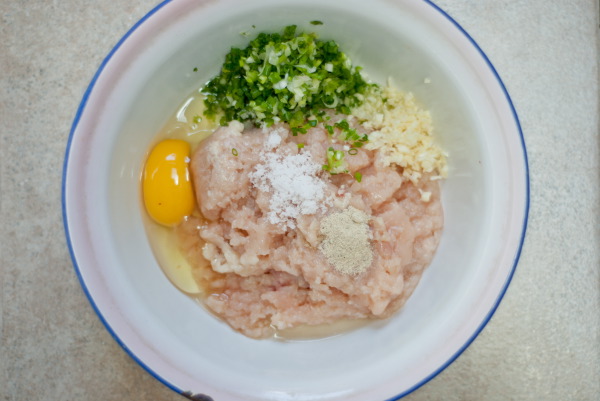 Combine all the wet and fresh ingredient. Ground chicken, spring onion, garlic, egg, salt and pepper. Mix everything together.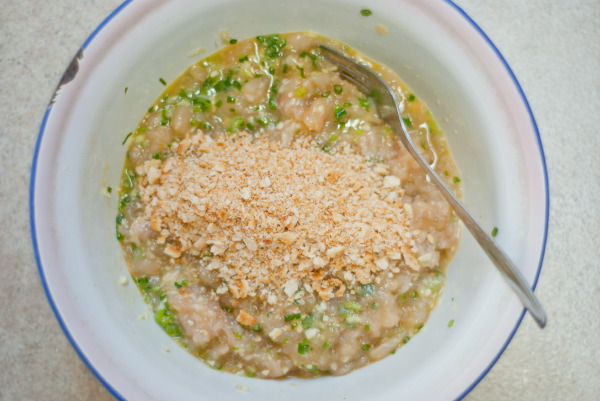 Add the dry ingredient, the breadcrumb. It could be store-bought or toasted-and-smashed-till-powdery day old bread. I used cream crackers.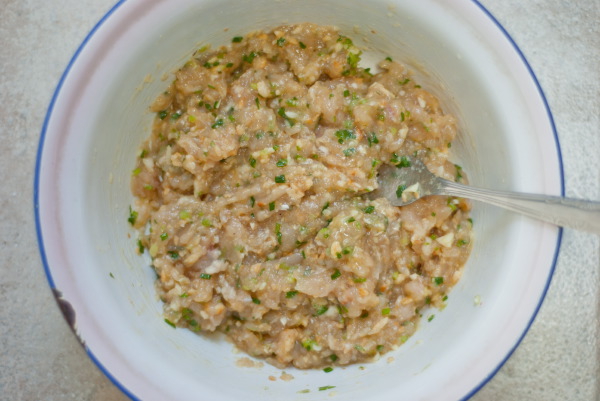 Mix everything together.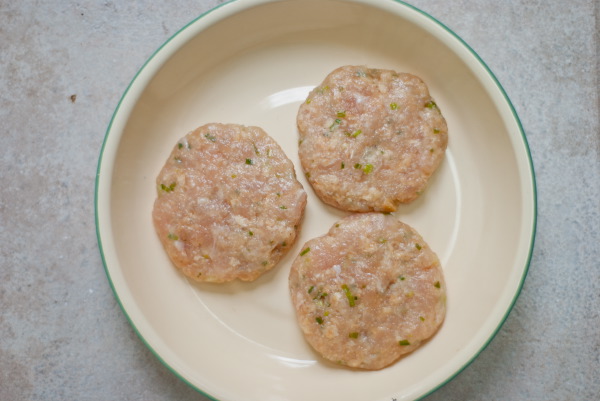 Shape the meat into patties. Use 1/3 cup measuring cup to spoon out the meat. About 70g, 1cm thickness patty.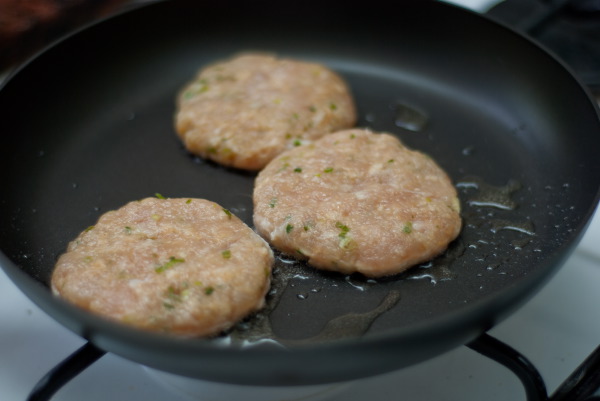 Heat non-stick pan and cook patties over medium heat. 3-4 minutes each side.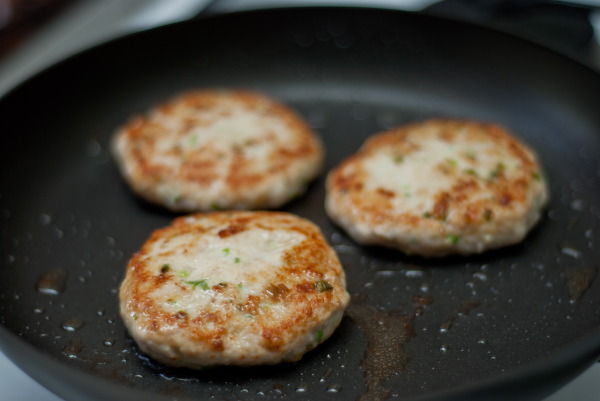 Till golden brown. Make sure they cook all the way through.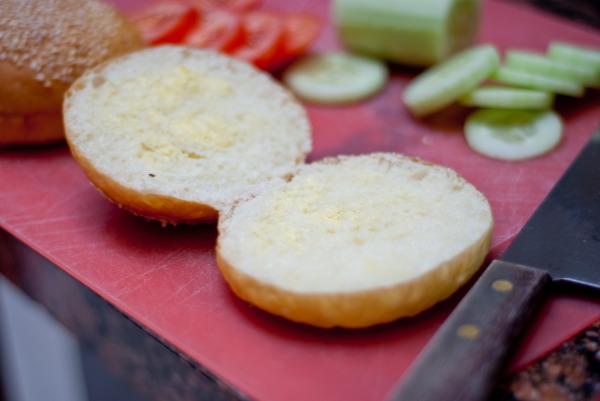 I always butter the buns, both sides.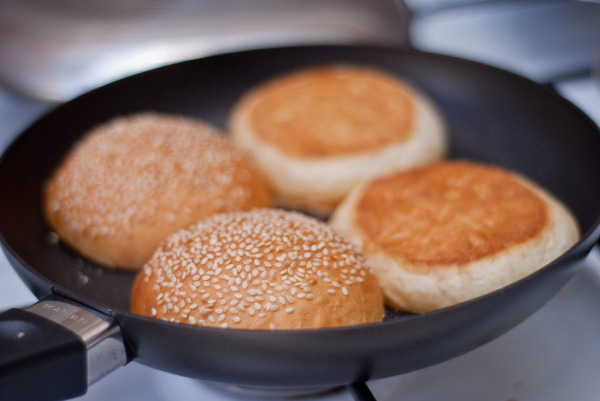 Lightly toast them on the same pan you cooked the patty. The buns will soak up all the juices from the patties. About 2 minutes over high heat.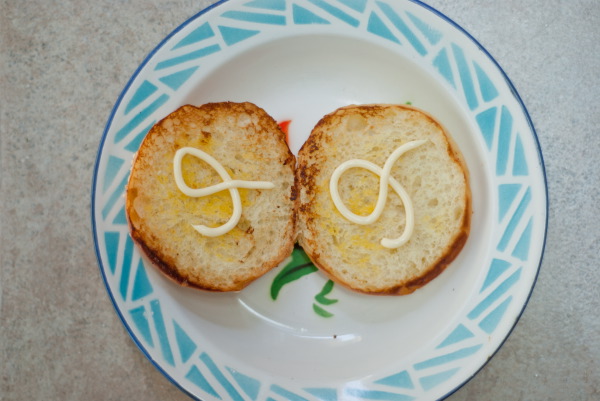 I use the Japanese mayonnaise that comes with the squeezy white bottle. I love that mayo. Who doesn't? Scribble some doodles on both sides of the toasted buns.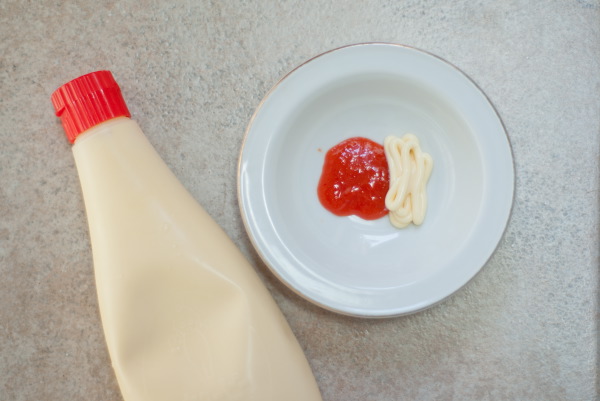 In a small bowl, mix equal amount of mayo and chili sauce.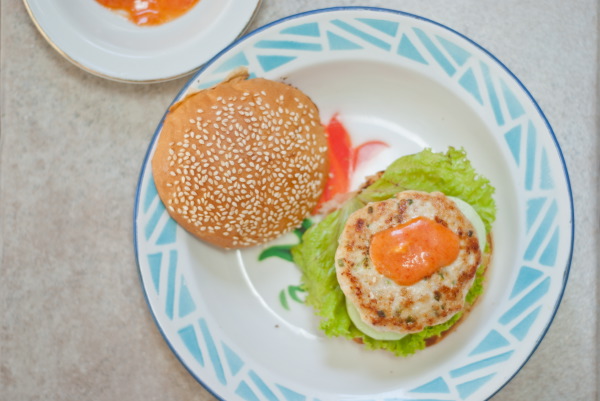 Assemble the burger with following order, bun, lettuce, tomato, cucumber, chicken patty and a generous dollop of chili-mayo sauce. Top these with the bun.
Serve warm, with soda and baked fries.
Enjoy.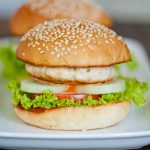 Print Recipe
Asian Chicken Burger
Ingredients
250 g ground chicken

2 spring onion, chopped

1 clove garlic, finely chopped

1/2 tsp salt

1/4 tsp white pepper

1 egg

40 g breadcrumb
Other condiments for burger:
Burger buns, toasted

Lettuce

Tomato, sliced

Cucumber, slliced

Mayonnaise, Japanese preferred
Chili sauce:
Chili-mayo dip

3 tbsp mayonnaise

3 tbsp chili sauce
Instructions
Combine chicken, spring onion, garlic, egg, salt and pepper in a mixing bowl.

Add breadcrumb. Mix everything well.

Shape meat into round patties by scooping the meat with a 1/3cup measuring cup.

Each patty would weigh about 70 g.

Heat cooking pan and cook the patties over medium high heat, about 3-4 minutes each side.

Serve with buns, lettuce, tomato, cucumber and chili mayo sauce.