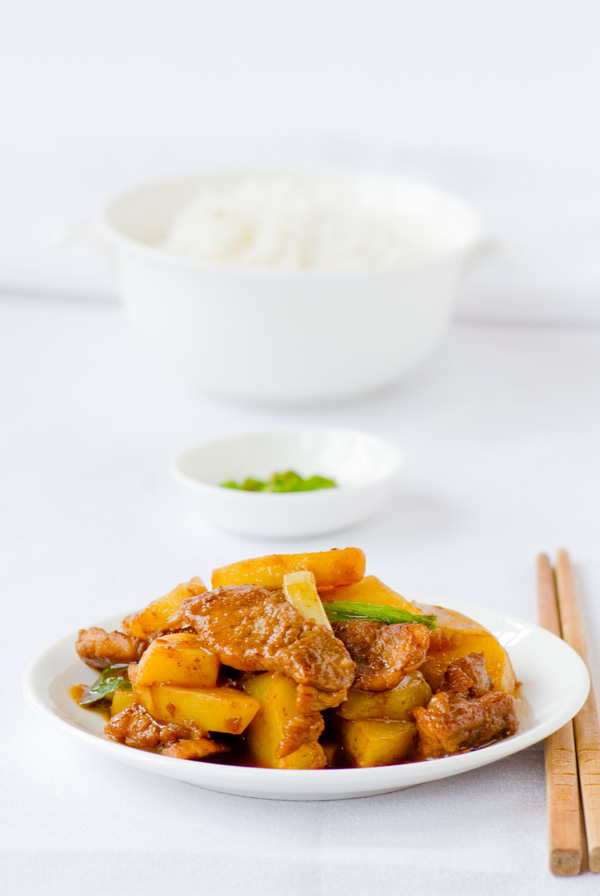 There has been a lot of pork recipes lately since we managed to get handsome supply of good quality pork belly and other leaner parts these past weeks. It is not easy to get fresh meat, so I am trying to cook as much as my favorite dishes as possible. Also I have a noticeably increased waistline for all these delicious fatty food! We didn't gained any weight when we were little and had to finish up our big plate of rice till the final grain daily. But now, with only a little bit of rice every meal, I can feel my body expanding. This is unnatural. Bad carbs! But what would I do without rice? Can't dare to imagine!
Another of my childhood favorite dish is juicy pork stir-fried with potato slices with thick gooey sweet sauce to go with the bowl of steamed rice. The pork is stir-fried over high heat to seal in the natural juices and simmered quickly to cook it through. Sounds easy and simple enough. Well, the best always is.
It is also important to work quickly, as most stir-fries dishes is. It requires you to be quick and hands-on. Keep tossing and moving the ingredients around the hot wok. The high sugar content (from the sugar and sweet sauces marinades) will cause them to burn fairly quickly.
I love these quick stir-fries dishes. I made a lot of sounds with the spatula and the wok, sounds like I actually know what I was doing. It certainly makes good impression if we have guests over!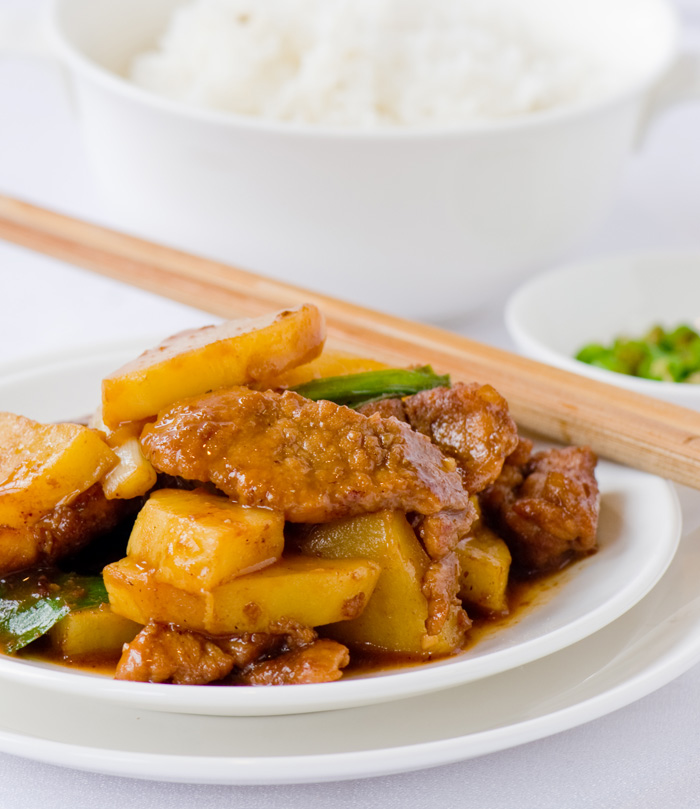 stir-fried pork and potatoes
Makes 2 servings
ingredients:
200 g lean pork
1 tbsp sugar
1/2 tsp salt
1/2 tsp white pepper
1/2 tbsp tapioca starch, or cornstarch
1/2 tbsp soy sauce
1 tbsp mushroom-flavored dark soy sauce
2 potatoes, peeled and cut into thin slices
2 tbsp cooking oil, more for deep-frying potato slices
2 garlic cloves, chopped
1 stalk leek, cut lengthwise into 5cm length
1/2 cup hot water
directions:
Cut pork into thin slices of 0.5cm thickness and flatten lightly. Alternatively, place a piece of plastic on top of slices of pork and pound lightly with meat tenderizer.
Marinade pork with sugar, salt, pepper, starch and both soy sauces in a bowl. Leave for 15 to 30 minutes.
Heat cooking oil and deep-fry potatoes slices till slightly browned, about 5 minutes.
Heat cooking oil in a wok over high heat. Toss in garlic and fry till fragrant. Add pork and stir fry for about 2 minutes till the pork tender but firm.
Add water and simmer for the sauce to slightly thicken. Lower heat, add potatoes and leek. Cook till everything is mixed well.
Serve warm with steamed rice
Step by step

Preparing pork marinades

Deep frying potato slices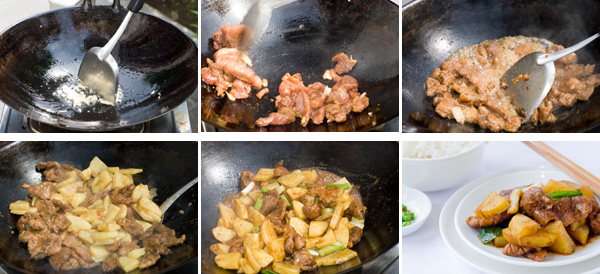 Stir-frying pork and potatoes
Print Recipe
Stir-fried Pork and Potatoes
Ingredients
200 g lean pork

1 tbsp sugar

1/2 tsp salt

1/2 tsp white pepper

1/2 tbsp tapioca starch, or cornstarch

1/2 tbsp soy sauce

1 tbsp mushroom-flavored dark soy sauce

2 potatoes, peeled and cut into thin slices

2 tbsp cooking oil, more for deep-frying potato slices

2 garlic cloves, chopped

1 stalk leek, cut lengthwise into 5cm length

1/2 cup hot water
Instructions
Cut pork into thin slices of 0.5cm thickness and flatten lightly. Alternatively, place a piece of plastic on top of slices of pork and pound lightly with meat tenderizer.

Marinade pork with sugar, salt, pepper, starch and both soy sauces in a bowl. Leave for 15 to 30 minutes.

Heat cooking oil and deep-fry potatoes slices till slightly browned, about 5 minutes.

Heat cooking oil in a wok over high heat. Toss in garlic and fry till fragrant. Add pork and stir fry for about 2 minutes till the pork tender but firm.

Add water and simmer for the sauce to slightly thicken. Lower heat, add potatoes and leek. Cook till everything is mixed well.

Serve warm with steamed rice