David Leite's Chocolate Chip Cookies.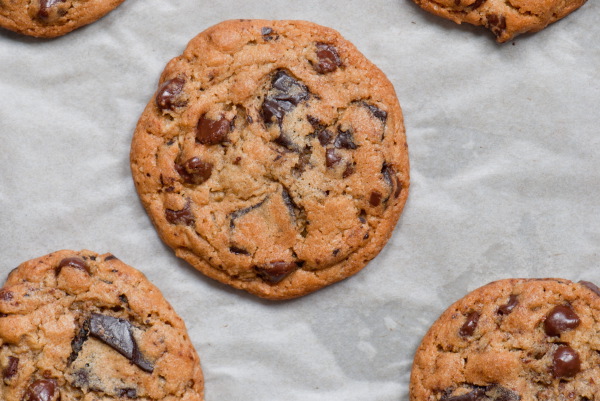 The last week of waiting, hopefully, for the little person to arrive. It has been a very rewarding 9 months. I particularly enjoy the shopping bit. I ended up buying a lot of the wrong things and (hopefully) much more of the right ones. I got carried away and spent too much on things that will only be used for a couple of months or so. So future mothers, please read up before heading to those cute stores. The other things that I enjoy as much are the pampering bit. And I later realized that pregnant woman could actually get away with a lot of things (that girls normally wouldn't, except if you are as gorgeous as Miranda Kerr or as famous as the Kardashians). Free upgrade on flights and hotel rooms are the ones I would miss the most.
Nevertheless I can't wait to feed him these Chocolate Chip Cookies from the famous David Leite's recipe. I know it has been around for years and many great bloggers have featured it, but one more wouldn't hurt. It is really that good. It puts all other recipes to shame. It is as easy as it is forgivable. It does come up to be slightly sweet, I usually reduce the amount of chocolate in my batch. And I couldn't find Varlhorna feves, which I suspect would be just perfect sweetness of chocolate. But what else is new, right. You could find any freshest vegetables and spices you could think of. When you need something fancy or imported ingredients for baking, you would need to fly at least 1 hour to get them. I use combination of bittersweet Hershey's chocolate chip and dark chocolate squares. They are finger-licking good.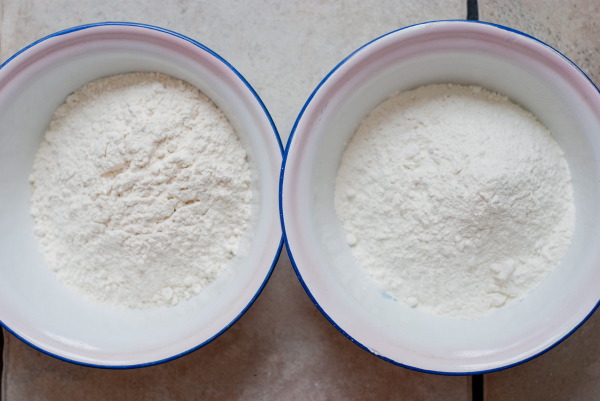 The recipe calls for two types of flour, bread flour (with higher gluten content) and cake flour.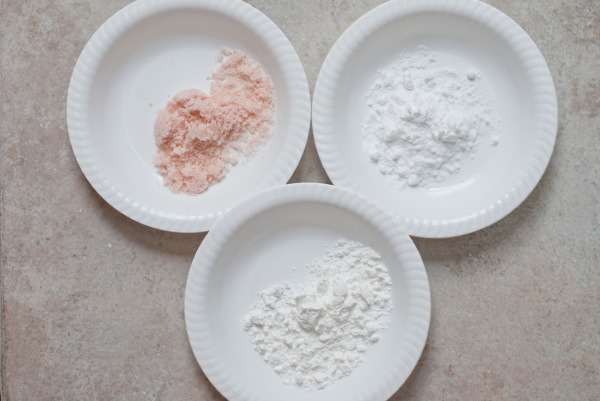 Salt, baking soda and baking powder. Combine this with flours and sift them into a bowl. I would sift them twice. The salt I use for cooking is usually mountain salts, hence the peachy color.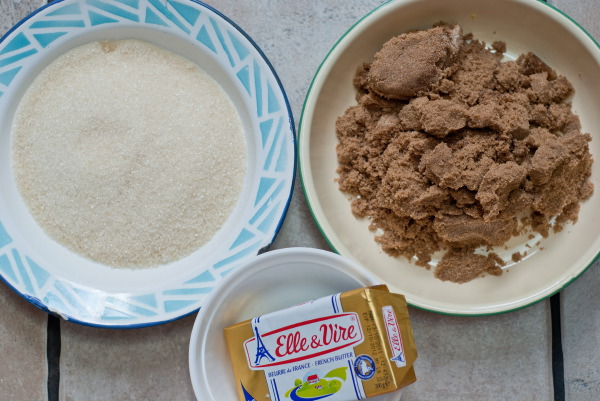 It also calls for two type of sugar, granulated sugar and brown sugar. And best quality unsalted butter you could find. My best effort is Elle & Vire unsalted.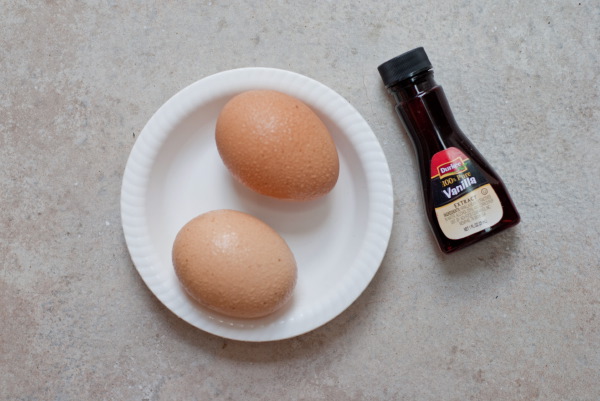 Two eggs and vanilla extract.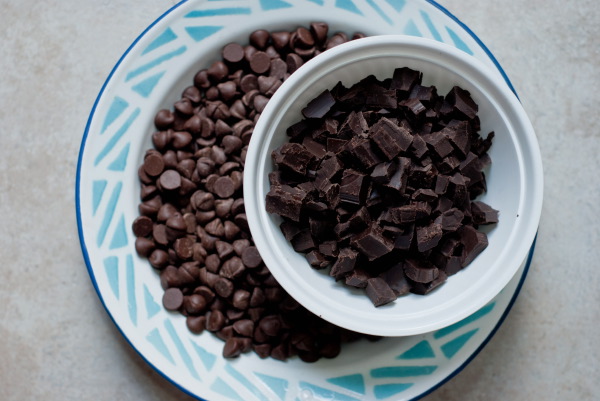 Bittersweet chocolate disks with 60 percent cacao content. I surrender my fate to Hershey's chips and some chopped dark cooking chocolate.
Combine butter, brown sugar and granulated sugar in a mixer bowl with paddle attachment.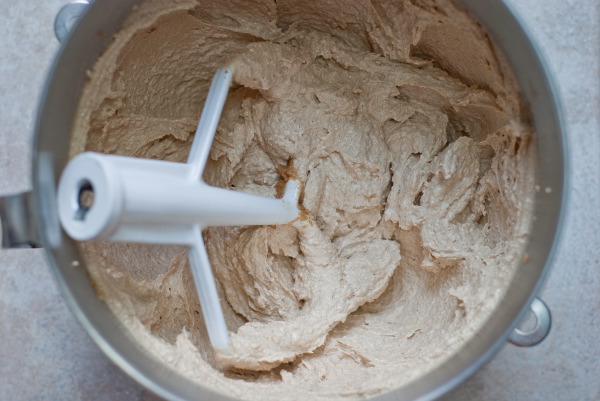 Beat on medium speed until the batter turns light colored for about 5-8 minutes. I tried not to over beat since the kitchen is a very, very hot place.
Add eggs, one at a time, and beat well, about a minute each. Stir in vanilla extract. Beat on low speed until all ingredients are well distributed, about 30 seconds or slightly longer.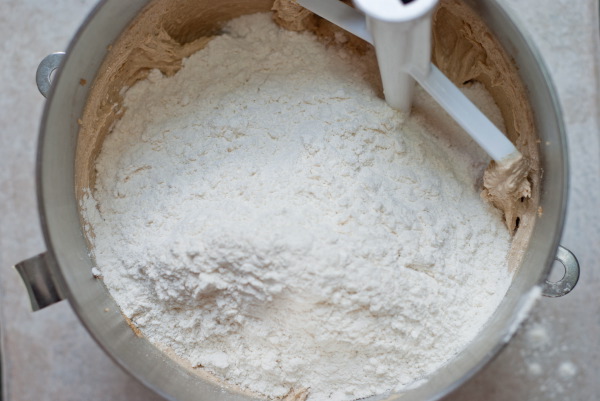 Add the sifted dry ingredients into the bowl and mix until just combined, about 5-10 seconds.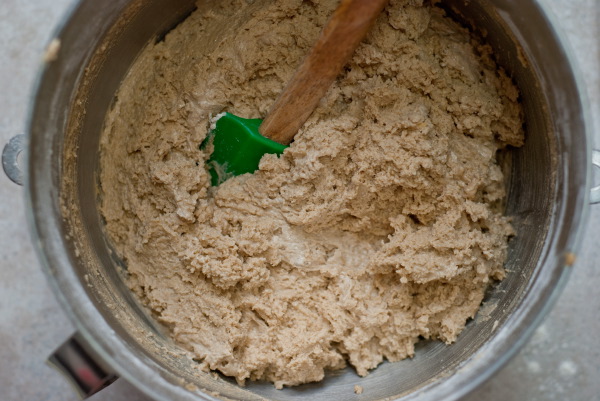 I usually do this part by hands (or a spatula / wooden spoon), because after many, many trials I tend to overwork the dough.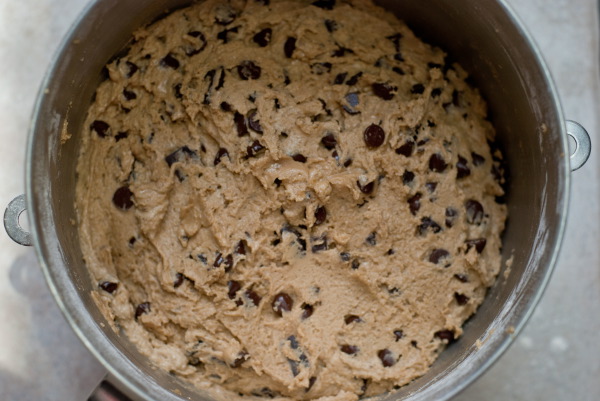 Add chocolate into the bowl and stir them well. Press a piece of plastic wrap against the dough and refrigerate the whole thing for 24-36 hours.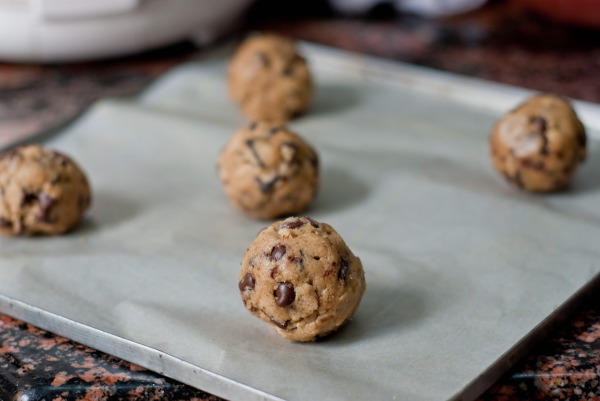 When ready to bake, preheat oven to 175 degree celsius. Line baking sheet with lightly oiled parchment.
I always need to leave the chilled dough in room temperature for about 15 minutes before I could scoop it out. I use ice cream scoop. One scoop to form one golf ball sized dough. Or two half scoops.
Cheat a little bit to make more handsome cookies by arranging the chocolate bits nicely nestled on top of cookies. Nobody's gonna see those delicious devils if they are on the bottom, are they? Sprinkle some sea salts on top. I used my pink salts – it is not visible on the shot.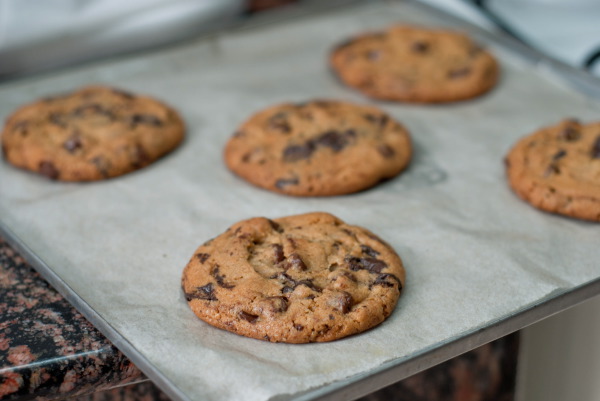 Bake those cookies for 18-20 minutes, until golden brown. The middle part of the cookies will still be soft but they will harden on standing, about 10 minutes.
David said to eat warm with big napkin. Over the kitchen sink, if I might add. Keep the rest in airtight container.
Print Recipe
David Leite's Chocolate Chip Cookies
Adapted from Jaques Torres from The Essential New York Times Cookbook by Amanda Hesser.
Ingredients
238 g cake flour

238 g bread flour

1 1/4 tsp baking soda

1 1/2 tsp baking powder

1 1/2 tsp coarse salt

280 g unsalted butter, softened

280 g light brown sugar

224 g granulated sugar

2 large eggs

2 tsp natural vanilla extract

566 g bittersweet chocolate disks or feves, at least 60 pc cacao content

Sea salt, for sprinkling
Instructions
Sift flours, baking soda, baking powder and salt into a bowl.Combine sugars and butter in a mixer bowl. Beat with paddle attachment on medium speed until very light, about 5 minutes.Add eggs, one at a time, beating well after each addition.Stir in vanilla extract.Reduce speed to low and add dry ingredients. Mix until just combined, about 5 seconds.Add chocolate pieces and mix well and quickly by hand.Press a piece of plastic wrap on the dough and refrigerate for 24-36 hours.

To bake:

Preheat oven to 175 degree celsius. Line cookie sheet with lightly oiled parchment paper.Scoop about 80-100 g of dough onto baking sheet. Sprinkle salts on top of them.Bake until golden brown, about 18-20 minutes. The middle part of cookies will still be soft, but will harden on standing. Leave to cool for about 10-15 minutes.Continue with the rest of the dough or refrigerate for later baking.Store baked cookies in airtight containers when completely cooled.