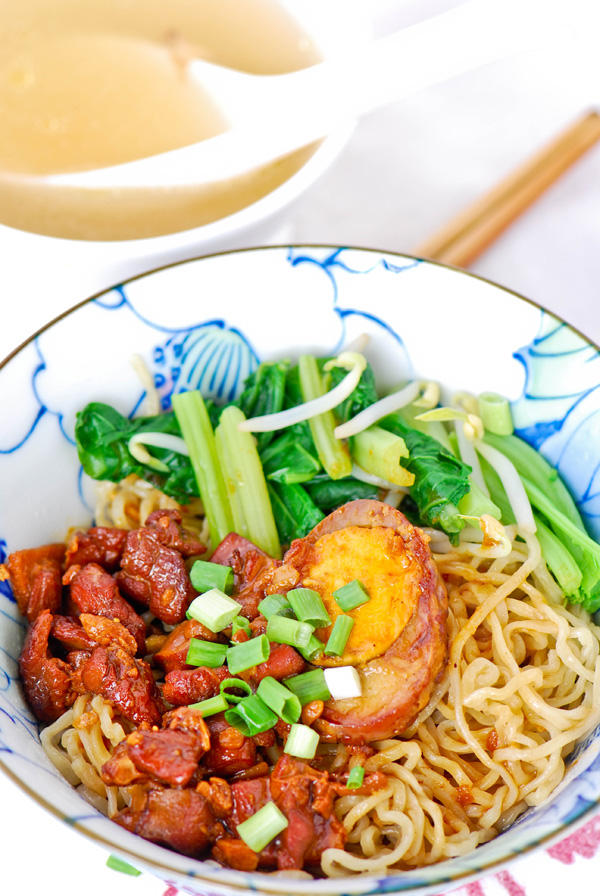 Chinese chicken noodles is popular take out food in our town.Wrapped in banana leaves and broth in a clear plastic bag, it is savory, sweet, quick and instantly filling. This version is my favorite, since my mother showed me how to cook this dish, I never buy from take-out stalls. It is a lot of work, as usual, but it tastes so much better. I had no idea that the ingredients would be really not that many. The only thing that annoyed me is probably the amount of dishes I would have to clean after cooking.
The noodles used are normally fresh egg noodles. They are blanched briefly and dropped in ice cold water to stop cooking process. The noodles are best if they still have a slight bite on it. The vegetables are boiled mustard greens and bean sprouts with sprinkles of chopped spring onions. Chicken pieces are stir-fried with caramelized sugar, seasoned with fish sauce and oyster sauce. The hard-boiled eggs also go through some stir-frying. Everything is just delicious. Sweet but delicious. These are then served with savory broth and garlic oil. My mother is brilliant.
Other meat can be used too, such as pork or beef. And vegetarian version would be using button mushroom as substitute.
Fresh thin egg noodles from the market. Basically any type of noodles will do.
Green mustard, a must for any noodle dishes. Wash and cut them up into 5cm length.
And the usual bean sprouts. Remove the itsy bitsy tails.
Get one whole chicken, skin and cut up the meat into small pieces. Use the bone for the broth. Some hard-boiled eggs.
Seasonings are fish sauce, oyster sauce, Chinese dark sweet soy sauce and some ground white pepper.
Roughly chop some garlic.
Heat some oil in a wok and fry boiled eggs over medium heat. Use some sort of shield. The oil splatter was horrifying.
Add soy sauce and continue frying. Lower heat. Again, watch out for the splatter.
When the eggs are slightly crusty, it is done. Mine were literally burnt!
Don't freak out if this happens to you too.
Peel of the burn crust and the eggs are as good as new. The smokey flavor adds a new layer of flavor, if you asked me. But they are unsightly, so go ahead and peel them off.
Heat some more oil over medium heat and add sugar in the wok.
Stir-fry quickly to avoid burning. The oil seems to be excessive, but it cooks the sugar nicely without burning it.
Keep on stirring the sugar using spatula, the sugar will eventually melt and turn brownish.
Toss in garlic into the wok. Season with oyster sauce and fish sauce. The sugar will bubbles up when the sauces are added into the wok.
Stir-fry these quickly. Now you have two things to keep away from burning. The sauce and garlic.
Toss the chicken pieces.
The chicken will be very soft cooked this way. The caramel seals all the chicken juice in without drying them out.
When the liquid slightly thickens, the chicken is done.
Transfer it to a claypot or small pot.
Add water and eggs into the pot and simmer over low heat.
The soup would decrease slightly after cooking. Keep it in the pot so it can be heated up easily when serving.
Now prepare the garlic oil. Stir-fry some more garlic in hot oil.
When garlic turns slightly brown, remove it from the wok immediately.
The garlic bits will continue browning even after removing. So it is best to remove from wok when it is still slightly pale. Burnt garlic is really nasty.
Chop some spring onions for garnish
Quickly blanch greens and bean sprouts in boiling water and remove in a minute or two.
Blanch noodles in boiling water and soak them in cold water to finish up the cooking stage.
Boil water and chicken bones, season with salt and white pepper for a couple of hours.
Get a bunch of noodles in a bowl, arrange the chicken and half of eggs on top. Add some vegetables on the side and add the chicken sauce generously. Sprinkle spring onions on top and some garlic oil with bits of garlic. Serve with chicken broth.